One style or trend that has really jumped out at me lately is the draped dress. Designers seem to be falling over themselves to create the dress to out drape all others. Draped dress is rather a general term which can be applied to all sorts of dresses from elegant Greek goddess dresses to body con dresses and quirky styles of dresses with fabric draped in an unexpected way. Generally speaking though, the draping of the fabric gives a very flattering look. Not only do the folds of the draped material skim over any lumps or bumps giving the appearance of a streamlined silhouette but the draping of material usually creates diagonal or vertical lines which help to elongate and lengthen the body.
Whilst many styles are copied from designer clothes by cheaper versions for the high street, I think a beautifully draped designer dress is not easy to copy. You are less likely to find an expertly draped dress on the high street. If you like a particular draped dressand you have the money, it is worth investing ina draped dress cause it will last you for many seasons to come. Amongst others Peter Pillotto, Vivienne Westwood, Sophia Kokosolaki, David Szeto and Versace are considered to be Masters of drape.
Rihanna was recently spotted wearing a draped leather dress from the Lanvin Spring/Summer 2010 Collection. This avant-garde dress has a very unique design with black leather draped over one arm leaving the other completely exposed. Also, Rihanna was rocking a pair of Christian Louboutin shoes.
Silk or satin, leather, tulle or soft cotton-this kind of dress is perfect for any special ocasions, including wedding ceremonials.
Catwalks are filled with draped dresses in uni bright and powerful colors, such as red, purple, emerald green, royal blue or yellow
Just look at Marc Jacobs Satin Draped Dress with Velvet Red Sash To The Waist from the Spring 2011 Ready-to-Wear Collection or the beautiful Lanvin dress. Lanvin
Co
llection 2011 is all about two-in-one ideas, beautiful draping, bold colors and timeless chic style.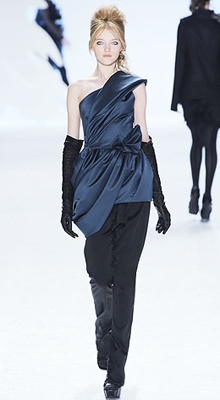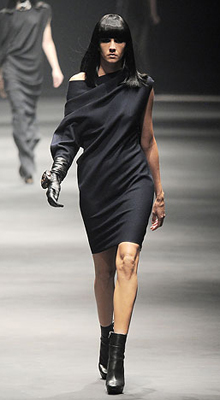 Nude colors look fabulous on the draped dresses, shapeing soft, pure and sensual apparitons.
Celebrities such as Kate Beckinsale, Kim Kardashian, Jennifer Lopez, Penelope Cruz or Sarah Jessica Parker adore this kind of gowns:
Remember ! A fashionable draped dress will make you more outstading and stylish!
I personally love the draped dreses, the long silky ones make me feel like a Greek goddess- voluptous and sensual- and the shorter ones make me look sophisticated and out of the ordinary.
Take a look at my draped dress below! Do you like it?